An Idea Begins to Grow
I am pleased and proud to announce the launch of Expedition Recovery, LLC! This has finally started to take shape after a wild year of planning and adventuring. There have been a lot of changes in my life to make this possible.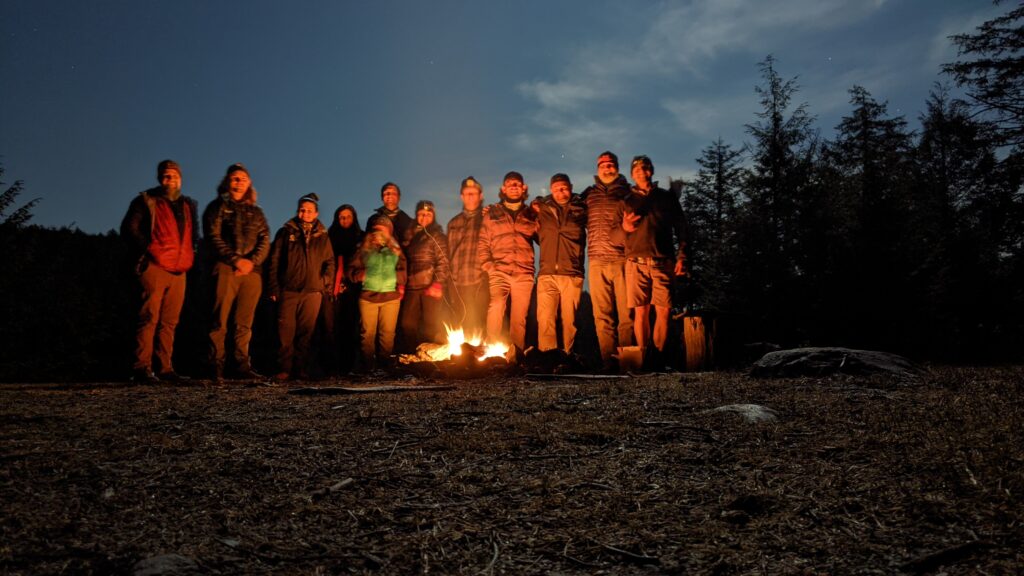 While attending Adventure Recovery Coaching training in the winter of 2021, the universe suggested a new career for me. At that time, I was approaching the end of a successful career in information security for local government. It was a career that was paying my expenses but, it wasn't filling my heart. This training offered a vision of something new, exciting and meaningful. It quickly became obvious to me that my purpose is in recovery coaching and outdoor education.
A Plan Starts to Come Together
With the planning underway to start a new business, I hired a marketing professional to help me with branding and graphics. Many thanks to Aimee at Soul Creative! Working through a mission statement and policies, I was making some progress. I bounced ideas off of friends to try to focus in on my goals. The idea was building! I would start part-time and after a few years, retire from my job to dedicate my attention.
Within a month, I began seeing a another possibility – flipping the script. I would retire from my full-time job, sell my house, hike the Pacific Crest Trail and when I was finished, set into motion this new venture into wilderness recovery coaching! Why wait until later to start living this new dream?
The Wheels are in Motion
Once my mind was made up, I gave notice of my retirement to my boss and listed my house. I had previously done the planning for my retirement finances. With the funds from my pension, I knew I could survive especially if I am willing to pick up some side gigs. My needs are pretty meager and I can be very frugal when I need to. I really don't need most of the stuff that I cling to.
Selling my house meant an opportunity to minimize; to get rid of everything that I don't truly need. That's exactly what I did. I sold off everything I could get a buck from and donated the rest. I even got rid of my car. My house sold within a couple of weeks and allowed me to bank some funds for my future. That description sounds easy. In truth, it was emotionally very trying and required quite a bit of physical effort.
I had been letting go of the material possessions that I was clinging to for about 4 years. Slowly letting go of things a little at a time. Volumes could be written just on this subject alone. It can be a very therapeutic endeavor. I highly recommend it.
Preparing for a Thru-Hike
After completing a thru-hike of the Appalachian Trail in 2020, my backpacking gear was pretty finely tuned. That part of my plan for the PCT needed little attention. All I really needed were a few packages of food to be mailed to a few strategic locations and a PCT permit allowing me to actually start my hike. I would hike southbound starting near the U.S/Canada border.
I targeted the middle of July as my start window. It coincided with a good time to retire from my position, leaving ample planning time for that organization as well as a good time to start the hike. Unfortunately, all of the 2021 permits were already allocated. With some persistence, I was able to get a permit for a July 18th start date.
Luckily, I also already had a pretty good idea of what I need for calories. That too was pretty dialed in from having hiked the Appalachian Trail so recently. I placed an order at the supermarket and assembled 3 boxes that I would ship to Washington through the post office and UPS.
The Journey Begins
On July 12th, I worked my last day. Here goes another adventure! It was exciting, saddening and nerve wracking all at the same time. After 25 years at the same organization, I had become pretty comfortable. My identity had become pretty closely tied to the position, the work and the salary.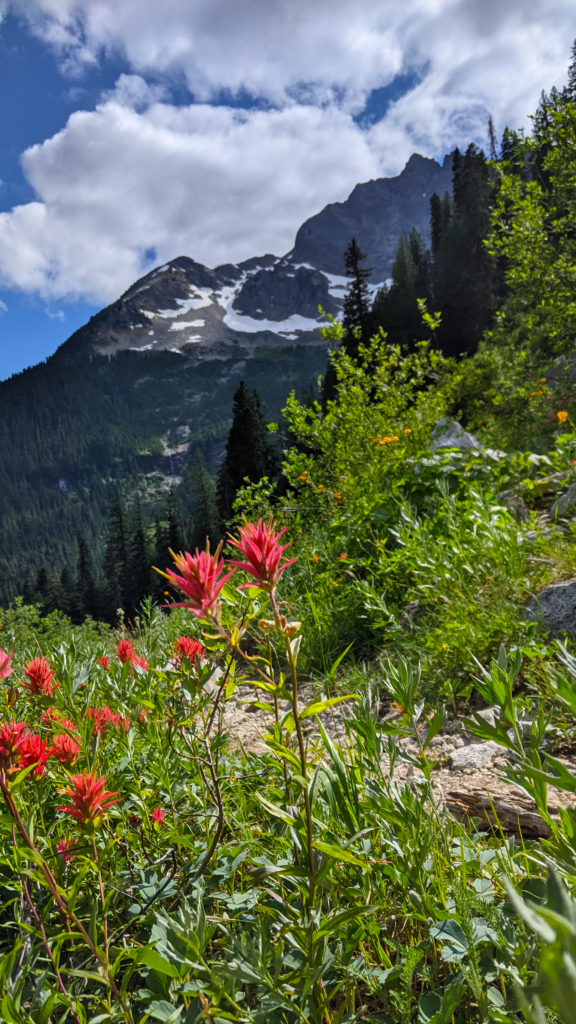 That same day, I took the bus to Philadelphia to see my oldest son. We spent the evening together. In the morning I took the train to the airport and I was off to Seattle.
Right from the beginning my PCT hike was in jeopardy. There was a wildfire near the border. It meant I would start south of my original plan and have to come back to make up those miles later, if that would become a possibility. As it turned out, I was able to do just that about a month later.
If you've never been to the Pacific Northwest or the Pacific Crest Trail, let me tell you, it is stunning. The beauty is impossible to describe so I won't try. Places like Cascades National Park and Glacier Peak Wilderness are beyond comparison.
As I hiked, several more wildfires ignited throughout Washington, Oregon and California. Winds pushed smoke in from other areas. Some days smoke filled the sky and the surroundings. From my sleeping bag, the faint smell of burning wood was noticeable.
One Leg of the Journey Ends
In California, two large wildfires prompted the U.S Forest Service to close down all National Forests in the state while they tried to get fires under control. On August 30th, 2021, the PCT was also closed for all 1700 plus miles that it traverses the state.
I was in Shelter Cover, OR when I received the news. It was hard to hear. I decided I would hike to Crater Lake, OR and get a ride to Ashland, OR so I could rest and wait to hear if the trail would reopen.
I arrived in Crater Lake, OR on the morning of September 3rd. After 800 miles of hiking, I was getting off trail. After several phone calls, I managed to arrange a ride to a hostel in Ashland. The trail angel, who picked me up, came 2 hours to pick me up and drove me back another two hours to the hostel. She was generous enough to stop so I could have a sit-down dinner. She refused payment of any form. She wouldn't even let me buy her meal. It was quite a kindness.
Over the next 5 days, I rested. A lot! I also kept an eye on the PCT closings. It became obvious based on the extent of the fires that the trail wouldn't open completely for the rest of the season. Even if sections opened, others would remain closed. It would be a logistical challenge to say the least. As the saying goes, plans are made to be broken. Clearly this was one of those occasions.
Here Goes Another Adventure!
As those 5 days of rest passed, it became increasingly obvious that I was being guided to start my next adventure. If I couldn't complete my PCT hike, the most pressing thing is to follow my purpose. I would get back to Pennsylvania and finish the implementation of my plan to launch Expedition Recovery!
Of course, I was in Oregon and there were still 9 of the lower 48 states that I had yet to visit. All of them are in the western part of the country. I hatched a new short term plan – hike the 400 mile Oregon Coast Trail then buy a car and drive back to PA, hitting the remaining nine states, several national parks and visiting friends along the way. If that sounds like fun, you're not wrong! It was a blast.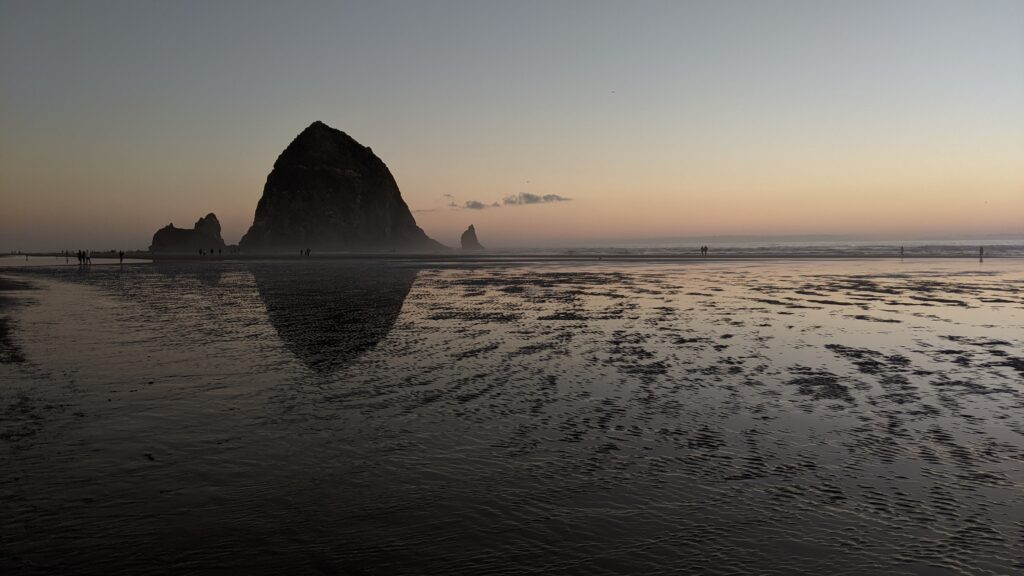 I rode the bus from Ashland to Portland and spent a couple of days enjoying the city before hopping on another bus and heading to the coast. I hiked south from the Columbia River and the Washington border.
Hiking the coast is a completely different experience than hiking in the mountains. That sounds obvious and I knew it when I started. However, I wasn't prepared for what would become a relatively boring hike. The Oregon coast is gorgeous. And any coast is fairly repetitive. Longs stretches, walking hours and hours with little more than grass and driftwood on the left and waves on the right.
After about 150 miles, I had seen enough! It was an experience that I wouldn't trade. And it was starting to wear on me.
On a rainy weekend, the weekend of my birthday, I made my way back to Portland and bought a Subaru Forester. I built a platform bed in the back and would eventually drive it back to Pennsylvania, sleeping in it wherever I could find a place to park.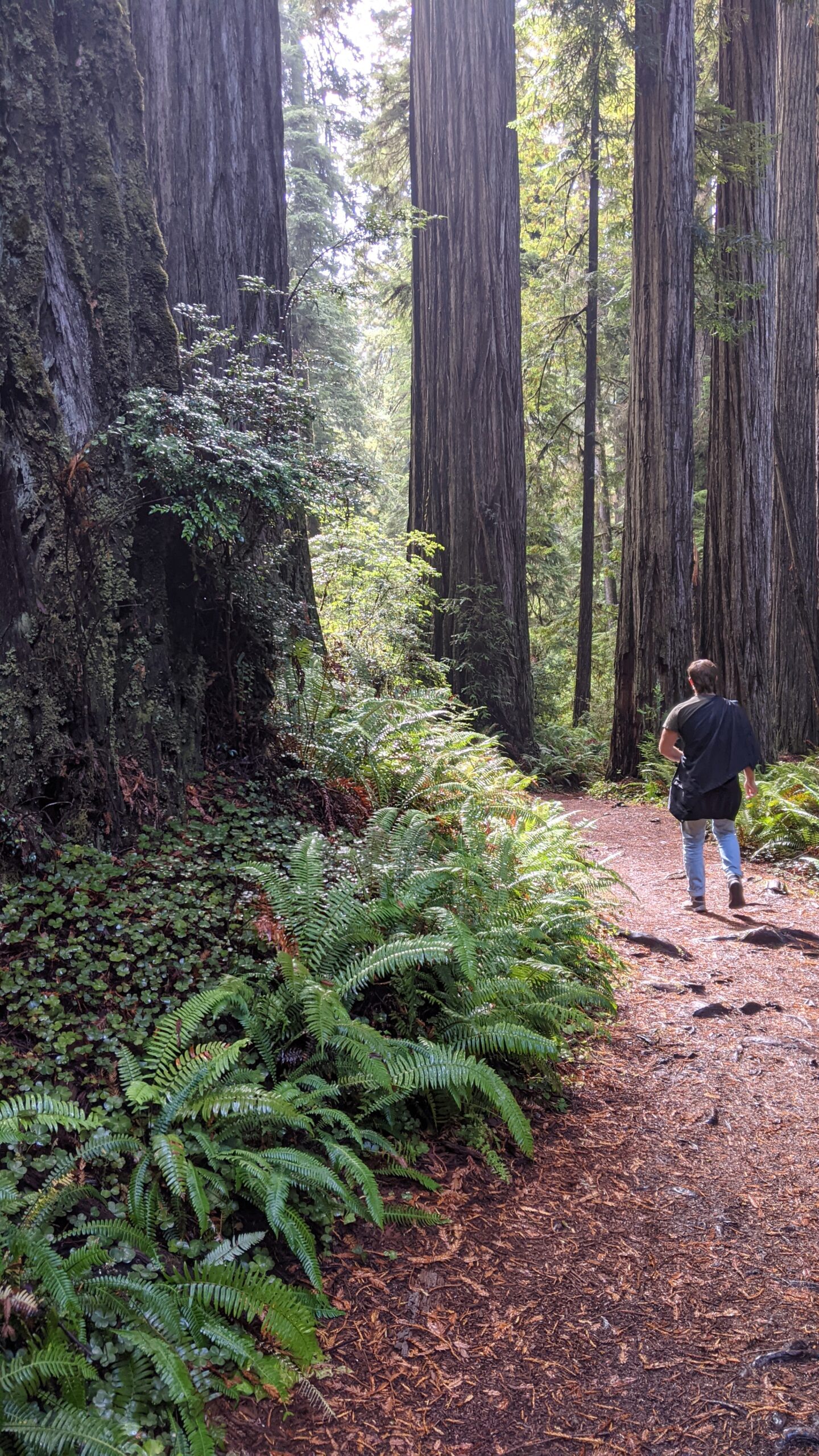 After the rain stopped, I drove back to the coast to complete some more miles of my hike. My oldest son was scheduled to come for a visit. I drove to the airport to pick him up. During his trip we visited the highlights that I found along the way and hiked several more miles together. We made a trip down to Jedediah Smith State Park in California to visit the redwoods. They are quite the site to behold!
All in all, I completed about 200 miles of the Oregon coast. When my son returned to the airport, I officially finished my hike. I didn't feel the need to finish the remaining 200 miles. Will I ever regret that? I don't think so. It gave me exactly what I needed from it at that time.
One thing I learned about the ocean is that it can keep a secret. I also learned that you can shout into the ocean at the top of your lungs and it won't be hurt or offended. I also learned that sometimes it roars back. You don't have to listen but, you better know how to get out of the way!
An Epic Journey
Back in Portland, I passed a few days. I had a couple of places to visit, activities to take in. I also need to say goodbye to my friends, Josh and Nikki and their good boy, Gus. They let me sleep on their couch for a few days, took me to a soccer match, fed me and made me feel welcome in Portland. I will forever be grateful.
From Portland I headed east! I spent the next few weeks visiting and traveling through Idaho, Montana, North Dakota, Wyoming (I had been there previously) and Utah. I visited Nevada, Arizona, New Mexico and Colorado. Glacier National Park, Grand Teton, Yellowstone, Bryce Canyon, Zion National Park, Grand Canyon, Rocky Mountain National Park all made the itinerary as well. I visited more national monuments than I can count.
I finally got to see Old Faithful erupt! While it really wasn't all that that specular, it was something that I had wanted to see ever since I was a young child. I really never suspected I would see it.
While making my way through Nevada and visiting Las Vegas, I was able to reconnect with an old friend. My friend, Chris (AKA Fisher) let me crash on the couch. It couldn't have been cooler than catching up with one of my best friends in the weirdest place on earth! Life has a way of keeping it interesting!
Along the way I managed to spend time with people I really value. I saw family (my distant cousin Emily in Flagstaff). I visited old friends (Steve in Hotchkiss, CO, Rick in Superior, CO and Tara in Corry, PA). And I saw trail family (Orange in Utah and Shells and A+ in Denver), all of whom I met while hiking the Appalachian Trail. They all went out of their way to make time to spend with me, made beds available to me and shared meals with me. I count myself very fortunate.
In all, I completed 5 bucket list items and drove about 13,000 miles. That list includes visiting all of the lower 48, visiting Yellowstone, seeing Old Faithful, visiting Las Vegas, seeing the Grand Canyon and driving across the country. I need a new list, a bigger bucket or both!
Here Goes Yet Another Adventure!
If you've been paying close attention, you noticed that I sold my house and most of my possessions. Now back in Pennsylvania, I am lucky to have a generous little sister who is kind enough to let me sleep in a spare room while I decide what is the best next living arrangement for me. It has been very comforting to have a safe space to land. A safe space to continue the plans for the next big adventure! It is valuable not be to pressed to make a long term decision about housing until I'm ready.
Since returning to Lancaster, I have continued where I left off building Expedition Recovery. Despite all my planning prior to leaving, I still had a lot of work to do.
I have been surprised at just how much effort goes into starting a business. This isn't my first small business, however, it is the first that I've taken so much care in planning and implementing. And doing right means more work on the front end. There is insurance and risk management planning, policies to be written, procedures to flesh out, PO Boxes, checking accounts, LLC's. It is a long list.
I had planned on completing the Wilderness First Responder training from Wilderness Medical Associates but, I hadn't planned on attending the Risk Management for Outdoor Programs training. Both have been invaluable for preparing me to launch this endeavor. I highly recommend both if you're considering starting an outdoor program.
My wilderness first responder training took place in January in Massachusetts. The class was held indoors but, with the doors open due to COVID. The practical exercises were conducted outdoors. That's cold and colder in case you missed the implication!
There are also additional trainings that I'm scheduled to attend. There is Leave No Trace Trainer Training (that's a mouthful) as well as Certified Recovery Specialist training. And a myriad of other training opportunities into the future. Experiential education is fun and endless!
Unfortunately, businesses don't market themselves! I'm slowly becoming a WordPress utilitarian. Despite my history in information technology (over 30 years all together), I was never trained in website editing. This is a seat-of-the-pants sort of experiment. Setting up and maintaining social media present their own "opportunities" to learn. Don't forget business cards, uniforms and flyers.
It has been a wild ride. I'm extremely excited to bring these services to my community, my recovery community. I'm excited to offer the benefit of my experience to my clients and to work with other recovery service providers in the area. I'm confident that this is going to be a valuable service in helping people in recovery progress on their own path to recovery. This really feels like what I am meant to do with my life.
Here goes another adventure! Stay tuned!
To see more photos of my travels, check out my Instagram @katbirdwalking.